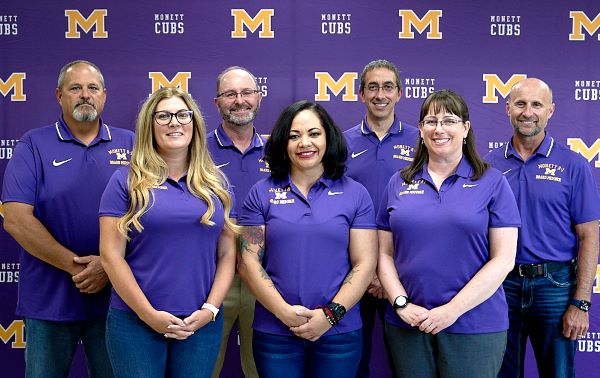 School board members must be a resident of the school district, have resided within the state for one year, and resided within the school district for one year at the time of election or appointment and be at least 24 years of age. The term of a member is three years. The board has full legislative authority and control of the district as provided for in state law.
Correspondence to school board members may be directed to the board secretary, Lonna Kay Norman, by mail to Monett R-1 District Office, 900 E. Scott St. Monett, MO 65708, or email (lnorman@monettschools.org).
The Board of Education meets every third Thursday of each calendar month. Occasionally, regular monthly meetings are scheduled on other dates. Meetings are all held in the Board Administrative Meeting Room located at the District Office (900 E. Scott St.) and always begin at 6:00 p.m. unless otherwise noted.
Remaining Board Meetings for 2022/2023 school year:
June 1, 2023 (Special Board Budget Work Session)

June 29, 2023 (Regular Monthly Meeting)**Note change on date

July 20, 2023,

August 17, 2023

September 21, 2023

October 19, 2023

November 16, 2023

December 21, 2023

January 18, 2024

February 22, 2024

March 21, 2024

April 16, 2024 * Note - different day - Tuesday due to election

May 16, 2024

June - 2024 T/ B / A