Parents/Guardian,
On Friday, October 9, we emailed a flyer with information about Title 1 Night. MES, CPE, & MIS is hosting the annual Title 1 Night on Tuesday, October 13 to discuss the Title 1 program and parent involvement through a Zoom meeting. 
We have included three flyers, one for each campus with the Title 1 agenda. You will find the the Title 1 School Plans, Zoom link, meeting ID, and the passcode to join the meeting under each flyer. When you sign-in to the Zoom meeting, identify yourself as a parent, teacher, or administrator. 
We look forward to seeing you at the Zoom meeting tomorrow.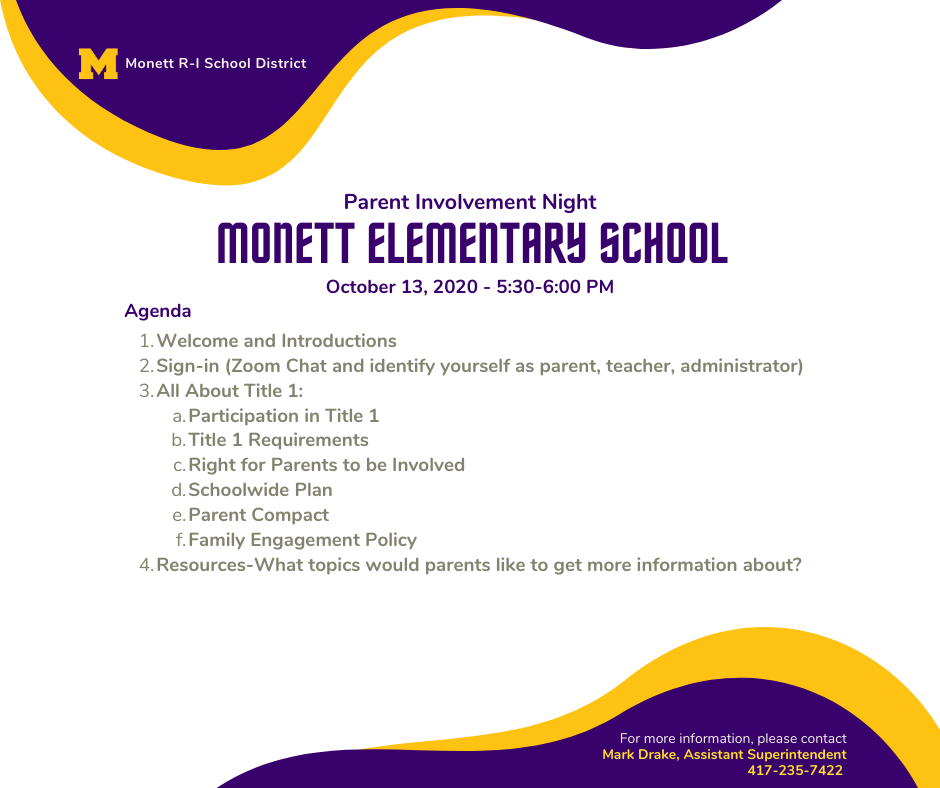 Click here to view the MES Title 1 School Plan
Join MES Zoom Meeting
MES Zoom Meeting Link: https://zoom.us/j/94781131140?pwd=KzE0K0ZvZUN3cDJkR2NmV0p4bFNVQT09
Meeting ID: 947 8113 1140
Passcode: 0a5Hk4

Click here to view the CPE Title 1 School Plan
Join CPE Zoom Meeting
https://zoom.us/j/94945871742?pwd=bkNwWjVTaW4ySC9jd3MvdmhvVXBXQT09
Meeting ID: 949 4587 1742
Passcode: 5G6Xnd

Click here to view the MIS Title 1 School Plan
Join Zoom MIS Meeting
https://zoom.us/j/99690400266?pwd=QkNGTU0zN01nRThGQlpDOWwveE9VZz09
Meeting ID: 996 9040 0266
Passcode: 0R4CaR
Thank you,
Monett R-1 Schools