Monett R-1 is excited to host the first home football contest of the season TODAY! Monett is playing against the Aurora Houn Dawgs. 
Home visitors and team visitors should report to the appropriate area of the stadium. Parking is available across the street. We have a concession window designated specifically for each of the home and visiting team guests (see map).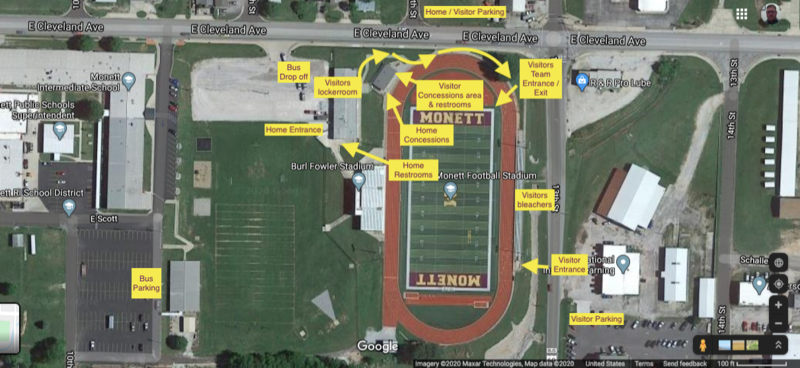 Burl Fowler Stadium / Kenley Richardson Field
Game Recommendations
1. Face coverings will be highly recommended for spectators. This is recommended especially when leaving seat to use the restroom or go to the concession area.
2. The band will perform and sit in the North end D zone.
 3. Visiting fans will sit on the East side bleachers, they will have access to restrooms connected to the concession stand. The Concession stand will have a specific window for our visiting fans.
 4. Fans are encouraged to sit on the hill or bring lawn chairs to sit up near the locker room or south of the home bleachers.
 5. Children need to be near their parents. No running or playing behind the bleachers.
 6. Fans will not be allowed on the track before, during or after a contest.
 7. No gatherings on the field after the game. Players will be rushed to the locker room after the game. No gathering will be permitted in the parking lot after the game. Parents are encouraged to wait in their vehicle for their child after the contest.
We hope to have a great game, while keeping everyone as safe as possible.
Monett R-1 Schools