Monett R-1 students were honored at the Youth Art Month Capitol Exhibit Recognition and Awards celebration held in Jefferson City on February 28, 2023. This event is organized to celebrate Missouri students' creativity and artistic talent.
Lieutenant Governor Mike Kehoe delivered an inspiring keynote emphasizing the importance of art in families and communities. He shared a touching personal story about a cherished piece of art created by his sister and how art can bring families together to pass along our stories. Secretary of State Jay Ashcroft also addressed the audience, expressing his admiration for the student's artistic accomplishments.
Monett students got the opportunity to meet the Barry County Representative, Scott Cupps. He spoke about the importance of staying involved in politics. Students were treated to pizza for lunch and had special access to the Thomas Hart Benton room, the Whispering Gallery, and climbed to the top of the Missouri State Capitol building dome to look out.
In honor of Youth Art Month, teachers around the State were invited to submit four pieces of student artwork to be displayed in the Capitol Exhibit. There is one student selected as a "winner" and one "honorable mention" for each division: lower elementary, upper elementary, middle school, high school, and a few other awards.
Tello V., 5th grade, won Honorable Mention in the Upper Elementary Art category. He also received a great collection of art supplies from Sargent Art. Tello's artwork was self-directed, incorporating his favorite colors, red and blue.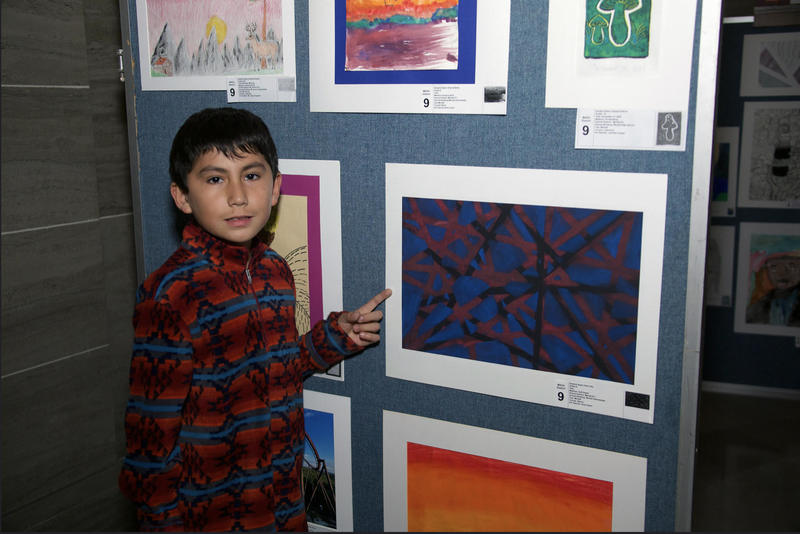 Missouri Lieutenant Mike Kehoe chose Brisa O. as the 2023 Youth Art Month flag winner, selecting her design from numerous entries. Her winning design was transformed into a flag to be displayed at the Youth Art Month Capitol Exhibit Recognition and Awards celebration.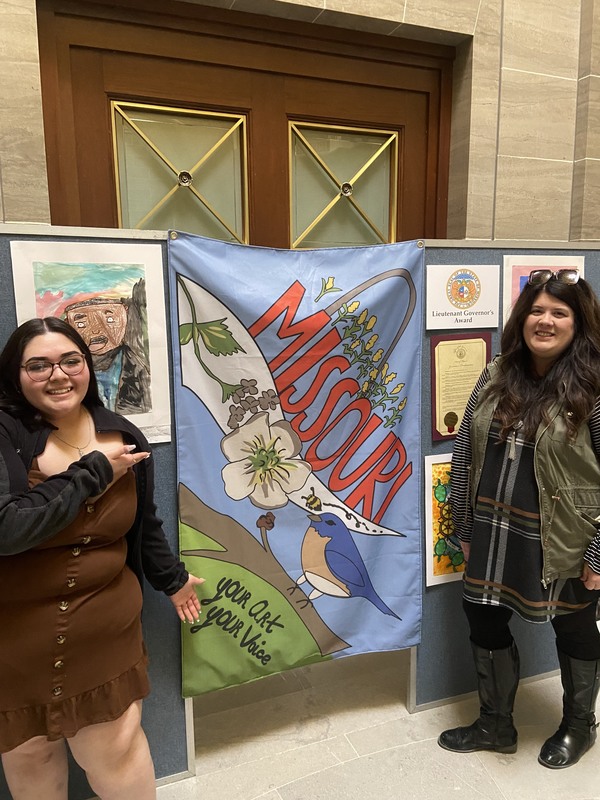 The following students have artwork displayed at the Youth Art Month Capital Exhibit: Shauntay R., Keiron D., Elonna B., Lacee M., Kevin C., Kessie K., Grace M., Maira B., Leah O., Maddox S., Dawson T., Harrison R., Brynlee C., and Kessie K.
Tegan Rand, Amy Barker, Amy Green, Jennifer Leeper, and Elizabeth Wallsmith's efforts demonstrate their dedication to fostering creativity and nurturing their student's artistic talents.
The Youth Art Month Capitol Exhibit Recognition and Awards Celebration is not only an opportunity to recognize the artistic achievements of Missouri's students but also serves as a reminder of the crucial role that art plays in enriching our lives and communities.